3 Quick Ways to Make Your Listing Stand Out
---
by Editorial Team
Friday, May 19, 2023
---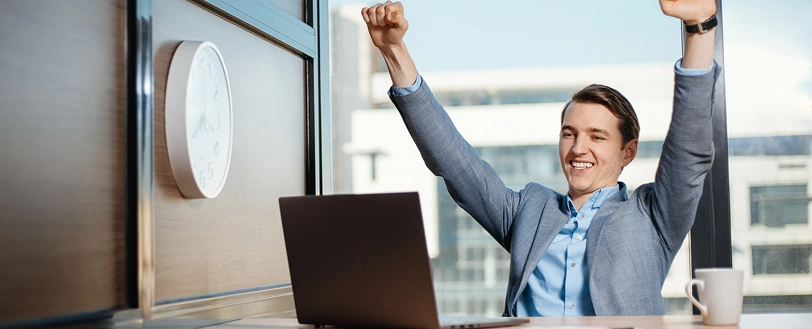 ---
If you took the time to create a listing on TestifyingExpert.com, your purpose was most likely to attract attention to your expertise so that you may find work as an Expert Witness or Consultant. We offer several resources that can help you to achieve that. Follow these easy steps to get the most from your listing, and increase your chances of being contacted by those trying to find an expert witness or consultant by searching online.
1. Improve Your Listing Quality to Get Higher Ranking in the Search Results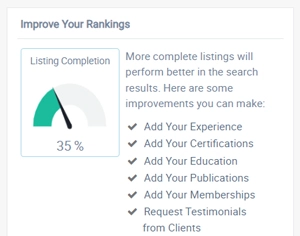 Listings that are more complete and contain more information are ranked higher in this site's search results and in the directory categories. Therefore, if you take the time to add more information to your listing, it will become more visible to those who are searching for your specialties. If you're listing is ranked higher in the search results and in the directory, there's a better chance that you will be found by those who are searching.
There is a useful tool on the Dashboard of your account that will give you some ideas to improve your listing quality, and provide areas that can be improved. An example of this tool is shown in the image.
Click the button below to log into your account and view the Listing Quality tool. If you don't have a listing, click the Add a Listing button above.
Check Your Listing Quality Here
2. Feature Your Listing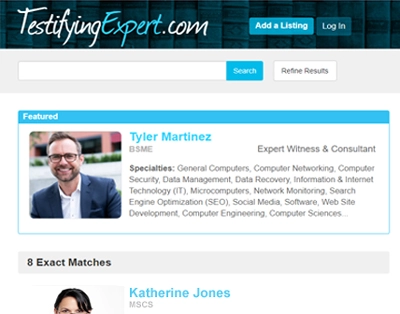 If you would like premium placement in the search results and directory, you can choose to feature your listing. You may choose to feature your listing on the homepage of the website, and under each of your specialties. Featured listings will show up under each category in a highlighted section at the top. So, you will be one of the first results someone would see when they visit the page with your specialties. The quality of your listing as mentioned above is still important when you feature it, because of multiple people are featuring their listing under the same specialty, the quality of those listings comes into play. So, if you truly want to be first under your specialty, make sure that you have a very detailed listing, and feature your listing under that specialty.
Click the button below to log into your account and feature your listing.
Feature Your Listing Here
3. Share your Listing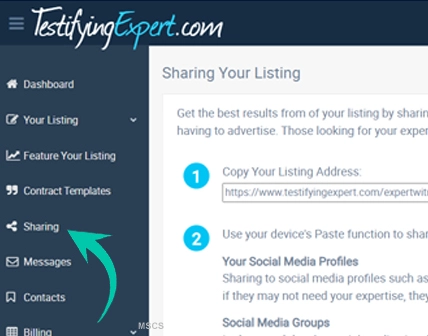 Sharing your listing can bring some good response. The key is to make sure that you are sharing it in areas where there are interested parties. You must target people who would be interested in using your services. The easiest way to do this is with social media. If you have a social media page with some followers, you can share listing there. You can also join groups on Facebook and LinkedIn that are related to your specialties, and share your listing there, showing that you are available to provide your expertise. If you have a Twitter account, you can share a listing there as well. Make sure you use hashtags in your Post to get the attention of those who may be interested in the same topics. To find related hashtags that are already active, do a Google search for "hashtag search." Choose a site and search for topics related to your services to find related hashtags. If you have a website for your services or business, including a link to your listing can improve the response you get from your website, since you are providing more information about what you offer and you look even more professional.
Click the button below to log into your account and get sharing instructions.
Share Your Listing Here